In a shocking incident, two daycare teachers from Kids Unlimited of Prosperity in South Carolina are now facing multiple charges for allegedly orchestrating physical fights among 3 and 4-year-old children under their care. Ericka Jones, 27, and Serena Caldwell, 56, turned themselves in to authorities after warrants were issued for their arrest, according to the Newberry County Sheriff's Office.
The charges brought against both teachers include contributing to the delinquency of a minor and unlawful conduct to a child. Jones faces 14 counts of each charge, while Caldwell faces 15. The alleged actions took place under the radar until vigilant staff reported the behavior, leading to the termination of Jones and Caldwell, as confirmed by daycare owner John David Dawkins in a statement to local outlet WIS-TV.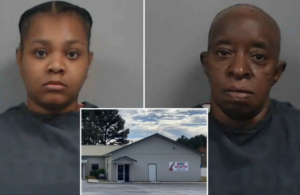 The daycare promptly informed the South Carolina Department of Social Services and the Newberry County Sheriff's Department, initiating a comprehensive investigation. According to Sheriff Lee Foster, the daycare fully cooperated with law enforcement during the course of their inquiry.
Disturbing details emerged during the investigation, revealing that Jones and Caldwell had allegedly instructed young children to engage in physical altercations by shoving, pulling, and hitting each other. Foster explained that the teachers claimed they were attempting to discipline or make certain children compliant by encouraging violence among the daycare attendees.
South Carolina daycare employees accused of running child fight club, encouraging 14 toddlers to assault each other https://t.co/GeCkCXFDqR

— Roxie🇺🇸🇺🇸🇺🇸 (@roxie32819) November 13, 2023
A total of 14 children, aged between three and four years old, were reportedly involved in these orchestrated fights. Fortunately, no serious physical injuries were reported, but Sheriff Foster expressed concern about potential emotional or psychological damage inflicted on the young children.
A parent of one of the victims, whose identity remains undisclosed, provided testimony stating that their child was coerced into hitting another child and then instructed to repeat the action. Expressing deep concern, Foster labeled the teachers as "rogue employees" and emphasized that the department did not believe the daycare itself was complicit in their behavior.
While acknowledging the isolated nature of the incident, a parent interviewed by local outlet WIS-TV expressed dismay over the tarnished reputation of the daycare, stating, "I hate that these two women kind of tarnished the name of this daycare." However, she also emphasized the importance of justice for the affected children, recognizing that the alleged actions could have lasting impacts on their lives.