In a recent Instagram Story post, Zelda Williams, daughter of the late Robin Williams, expressed her concerns over the use of artificial intelligence (AI) to recreate the images and voices of actors without their consent. Williams, whose father passed away in 2014, highlighted the potential misuse of AI technology, stating that she has witnessed efforts to train models to replicate actors who cannot provide consent, such as her father.
The ongoing strike by the Screen Actors Guild‐American Federation of Television and Radio Artists (SAG-AFTRA) has brought the issue of AI recreations to the forefront in Hollywood. SAG-AFTRA has made AI recreations of an actor's image or voice a mandatory subject of bargaining, emphasizing the need to address the ethical implications of using AI in the entertainment industry.
Zelda Williams spoke out against the practice, noting that she has heard AI being used to imitate her father's voice to say whatever people desire. While expressing her personal discomfort with such AI recreations, Williams underscored the broader implications, emphasizing the importance of living actors having the opportunity to make creative choices and contribute their human effort to performances.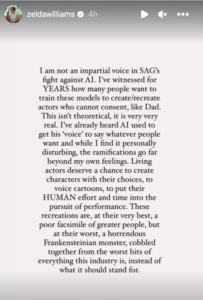 The debate around AI recreations extends beyond the actors' strike, with prominent figures in the industry weighing in on the matter. Filmmaker Tim Burton likened AI recreations to a threat to humanity, stating that it could strip individuals of their humanity and soul. Actor John Cusack went further, labeling AI as a "criminal enterprise" in support of the actors' strike.
Tom Hanks, another Hollywood icon, raised concerns about the potential use of AI-generated videos featuring his likeness. He cautioned about the possibility of AI being employed to create content without the knowledge or consent of the original creators.
While the Writers Guild of America (WGA) has reached a resolution that embraces the future possibilities of AI, it also ensures safeguards for human creators. As part of the agreement that concluded the writers' strike, the WGA specified that AI cannot be used to write or rewrite literary material without limitations. Writers are granted the choice to use or abstain from using AI when working, and studios are prohibited from using a writer's work to train AI without the explicit knowledge and consent of the writer.
In conclusion, the intersection of AI and the entertainment industry has sparked a heated debate, with actors, writers, and filmmakers expressing concerns about the potential misuse of technology and the need for ethical guidelines to protect creative rights. The ongoing actors' strike and the WGA's negotiated terms underscore the industry's grappling with the challenges and opportunities presented by artificial intelligence.